A finished item from earlier this year. It was a secret until it release. A cute toy from a book you may remember reading as a child. A crochet pillow you will want to make now for this winter.
FINISHED ITEMS
You may remember me talking about items that I can't talk about until they are released. This was one that I'm glad to be able to show you now. This is a
Man's vest in Homestead
from
Plymouth Yarn
. This yarn has that great wool feel, firm and sturdy, but not scratchy. Here is my photo:
Okay I never said I was a photographer. Fortunately Plymouth yarn uses one: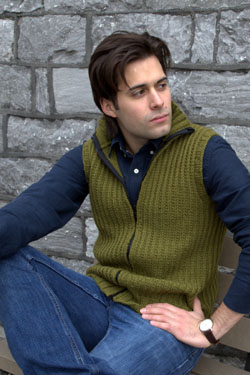 WORKS IN PROGRESS
Coming to Happenings soon.
CROCHET
This is the
River Rose Pillow Cover
. I love square. Wouldn't it be great to have those flowers warming up your room this winter. (Yes, it is coming). It is also a great block for anything else you would use granny squares. What would your granny squares become?
KNIT
Remember
Paddington Bear
? He was always getting into trouble. Make your own Paddington Bear and be ready for adventures.
LISTEN
If you like listening to people talk about knitting, you might want to listen to the
Knit More Girls podcast
. After reading the
reviews on itunes
, I wasn't sure I wanted to listen. Finally I subscribed. They each talk about knitting and various yarn related activities, and have frequent contests and giveaways. Why don't I still subscribe? Mainly because I want my listening to be informative. Then long commercial like information from the sponsors didn't make me want to stay either. The reviews were to harsh, remember they are from several years ago, but this one isn't for me.
WINNER
The winner of last weeks Swarovski Coral Focal Bead is McKayla K. Congratulations!
NEXT WEEK
Giveaway for a free pattern to Sarah's Shawl ends Wednesday August 12, at midnight. Enter Now! Winner will be announced on the blog post and in next weeks happenings.
This post contains affliates links. Thanks for supporting my blog.
Visit 100Creations's profile on Pinterest.