Vogue Knitting Fall 2015 brings a variety of stylish patterns, challenging knits, and wardrobe additions. Just a few of the stand out projects are included here.
Stylish Patterns
Style + Intricate Knitting
Multiple two color motifs guarantee you won't lose interest knitting this sweater. Just don't lose your mind keeping track of the pattern. Black and natural colors recommended.
Challenging Knits
Push your knitting boundaries to their maximum.
Lace and cables combine to make this shawl one you won't soon forget. Forget right side and wrong side, this one is double knit. Double the work, but double the fun. Of course, I love the color.
Not quite the challenge of number twenty-six, get a taste of double knitting with this beanie. When you are done, you get the fun of choosing the right side.
Wardrobe Additions
Fun to knit + Wearable
Use the cables shown, or substitute your favorites. This will provide just the right amount of warmth, but knit faster than a sweater. Plus the color will banish winter blues.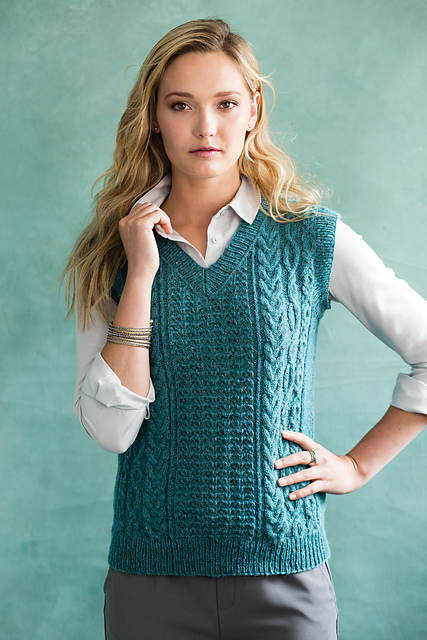 #9 Arrowhead Top
Plain name for a top that mimics ready to wear hemlines. Knit in worsted weight, you will be wearing it before the weather warms up. This could also be worn as a vest, but the center ribbing would be bulky.
All photos copyright SoHo Publishing. More patterns can be found in the magazine, Vogue Knitting Fall 2016, or
viewed on Ravelry
.
This blog is supported by affiliate links and ads. Thank you for your support.